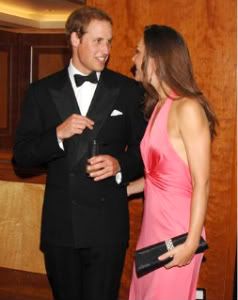 Prince William and Kate Middleton having been keeping a low profile lately.  They were last seen in Aldborough attending a friend's wedding.  With less than 100 days before their big day, one wonders what they've been up to.
Kate was spotted in her favourite supermarket, Waitrose, near her parents' home yesterday.  Staff at the Thatcham store in the Kingsland Centre would not reveal whether she was selecting party pieces for her springtime wedding, or if she had simply run out of milk.  The deputy store manager of Waitrose said: "She's a regular here. This is the first time we have seen her for a while. It was quite exciting for the staff."
Article: Newbury Today
Another sighting has been reported for January 9, Kate's 29th birthday.  William and Kate were seen at Tebay West Services in Cumbria.  Kate was looking through magazines and even pointed to William the Hello! issue which had them on the cover.  Tebay Services staff denied knowledge of the royal visit.  But with previous reports that William & Kate traveled from Aldborough (after attending a wedding) back to North Wales that day, it makes for a plausible story.
Testino talks about William & Kate's engagement shoot
[ad#boxleft]Photographer Mario Testino has given an interview detailing the background behind the shoot for Prince William and Kate Middleton's engagement portrait.  He helped choose the white dress, by Reiss, which Middleton wears in the more formal image.
"Even someone as photographed as the Royal Family needs to feel completely comfortable if they are to look their best. Two people in love have a glow and a presence more powerful than anything else, and I wanted that to be the subject of the picture."
Of Kate Middleton, who he photographed for the first time, he says: "I already felt very confident that she would be an easy sitter, as she has natural grace, a very open personality, and a beautiful face and posture…. It was a real treat to photograph her.  She has already developed a perfect sense of Royal responsibility, she brings life, a delightful sense of humour, and joy into the room when she walks in."
Whole Article: Vogue
Kate desperate to gain weight?
She has been criticised for looking a bit thinner lately. Now reports are saying Kate is desperate to gain weight so she might fill out her wedding dress.  Wanting to gain at least a dress size, she has taken advice from a nutritionist about adding more carbs to her diet to offset her active lifestyle and workout regime.  Now Magazine, the original source, isn't the most reliable, so read with caution…
Article: Daily Mail
[ad#zazzlebanner-testinobw]
Other Royal News:
[ad#horizontal4linkfront][ad#horizontal4link]