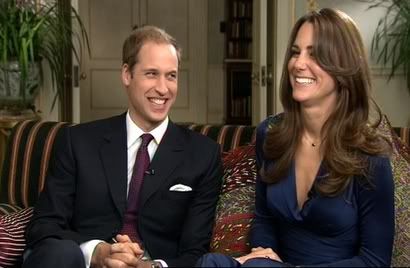 Those who know her say that Catherine Elizabeth Middleton is far too sensible  not to be precisely aware of the gilded cage into which she is stepping by  consenting to become a future Queen of England.  But if she needs any reminding, she might just consider the simple question of    what she and her husband will be called after their wedding next April.
That's because it is traditional for the monarch to offer a dukedom to a prince of the royal blood on the eve of his wedding. But which?
William and Kate to be…. Duke and Duchess of Albany?  of Cambridge? Clarence?  Connaught? Windsor? Sussex?  Anything is better than being called "Princess William…"
Is Kate Winning the War Against the Paparazzi?
Since Princess Diana died in a car crash in 1997, the public mood turned against the paparazzi.  But what levels of intrusion will confront William and his  newly-betrothed fiancee Kate Middleton as they step firmly into the  public eye in the run-up to their wedding next  April? Will the royal  bride face media interest beyond her control?  Industry insiders  say some photographers will betempted to cash in — although fear of  legal recriminations will keep most at bay.
"Kate has used the courts before to restrain intrusion and newspaper  editors in Britain don't use those intrusive pictures any more," said  photographer Arthur Edwards. While he expects Buckingham Palace to  increase the number of photo calls as the couple heads unavoidably into  public life, there will still be limited legitimate opportunities for  candid shots.
Despite a huge worldwide demand for images of the couple, photo  editors are also now wary of using intrusive images, which they say can  end up costing more than they earn."The value of unauthorized  photographs of William and Kate has never been lower because the  Middletons and everybody else are very aggressive legally," said Sam  Barcroft, head of international photo agency Barcroft Media.
Article: CNN

BOOK ALERT: The First of many books about William & Kate is now on sale in the UK.  From The Sun in collaboration with royal  photographer Arthur Edwards, the book is entitled William & Kate: A Royal Love Story.  It is due to be released in the US on December 17.
Amazon UK: William & Kate: A Royal Love Story
Other Articles
Related Posts: