Her Majesty the Queen is reportedly upset that Prince William and Kate Middleton announced details on their April 29 royal wedding before consulting her. This is according to Yvonne Yorke, who gave the exclusive to E! News. I am personally waiting for more experienced royal reporters to weigh in on this, as this source is new, American and has no substantiated royal credibility record. Besides, I don't think William is naive as to not consult with more senior royals or calculate logistics before his team announced the details on Twitter, AND before the British Monarchy's Facebook page announced the same details on their wall!

Anyhow, an angry Queen allegedly rang Prince William on his mobile and told him off. "Are you cycling to the Abbey?" she asked, upset that bride Kate Middleton is to arrive by car instead of a glass carriage. She also doesn't like hosting so many people for the reception, doesn't like the idea of a buffet, and pointed logistic problems for hosting another dinner-dance in Buckingham Palace later that night. Now it is reported that a member of William's team needs to report to Buckingham Palace to go over wedding details with the Queen's team. Oh the drama!
Article: E! News
[ad#textbanner1]
Royals to be Shrouded in Deeper Secrecy Under Controversial Law Change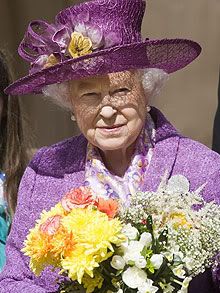 Letters, emails and documents relating to the Queen, Prince Charles and Prince William can no longer be disclosed – even if they might be in the public interest. The changes, which are part of a series of reforms to the Freedom of Information (FOI) Act, will mean an end to journalists investigating the family's finances.
Before, the affairs of the Royals have been more transparent – with the family forced to admit in September that the Queen tried to use a state poverty fund to heat Buckingham Palace. The law has also been used to push for the disclosure of the Prince of Wales' many written discussions with MPs.
The fine print read: "Communications with the Monarch, the Heir to the Throne and second in line to the Throne will be subject to an absolute exemption, and the rest will remain qualified."
A Buckingham Palace spokesman said the law change was necessary to protect the constitutional position of the monarch and her heirs, who had the right to confidential consultation with the Government.
Article: Daily Mail | The Independent
[ad#horizontal4linkfront][ad#horizontal4link]
Kate Middleton Articles Leading up to her 29th Birthday on January 9
Who are in Kate's inner circle of friends?  Who are her potential ladies-in-waiting?  How will life change for her next year?  Read: The Telegraph: Kate Middleton's nearest and dearest.  Also, explaining the maturity Kate takes into her future role, read: The Prince's Older Woman (by 6 months).  And from Yahoo! news: Are there skeletons in Kate Middleton's closet?
And what does Fergie, the Duchess of York have to say about the royal wedding?  While she would not confirm her attendance, she says: "It's great news for William and Catherine. She's so beautiful and so lovely, and it's just love. It's wonderful to see such great love." Source: CBC News
[ad#zazzleright-testino]
Other Royal Wedding News: