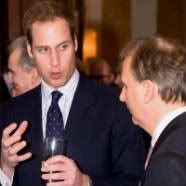 Prince William made a speech to mark the 20th anniversary of the conservation charity Tusk Trust, which works to protect endangered species in Africa and alleviate poverty amongst rural communities living alongside the wildlife.
"The imperative of balancing conservation of wildlife and natural resources with the ever growing needs of the human race is at the heart of the great challenge facing mankind today. Tusk realised this 20 years ago and, in many areas of radical thinking about sustainable development, the charity in its sensitive and self-effacing way continues to illuminate the path for us…"
Wills is Tusk Trust's patron.  Rumoured "ex-girlfriend" Jecca Craig is active with the charity.   He spent 3 months of his gap year in Kenya working with rhinos with Lewa Wildlife Conservancy, which is run by Jecca's parents.
Article: The Press Association
Pictures: Getty Images
Links of Interest: Tusk Trust Official Site


Related Posts: