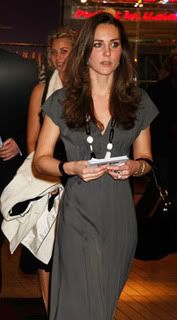 Here's a story that refuses to go away.  It has been previously reported from the Daily Mail and the Express that Kate Middleton plans to train with photographic guru Nikolai von Bismark, a friend of Prince William, in New York in January 2010.  Now Clive Goodman of the Daily Star claims Kate plans to grab a job in NY after the alleged 2-week training.
Kate made her decision ­after ­realising she and William are unlikely to get married before 2012.
"She feels this is her last chance to carve out some sort of identity for herself before she is swallowed up by the Royal Family.  Kate knows her choices will be very narrow once she is formally ­engaged, so she wants to make the most of her time now," quotes a "friend."
"He has his training as a helicopter­ ­rescue pilot to finish and he realises Kate has her own life to lead. Whatever she decides to do, he'll support her 100%," quotes a "palace aide."
Article: Daily Star
Even if this story has been reported in multiple publications, I won't believe it until it happens.  Firstly, it sounds like something we've heard before. A previously widely reported story of Kate training for photographer Mario Testino been denied by Testino himself.  And what about training with Vogue fashion editor Anna Wintour? Both involved NY.  Both didn't happen. It goes to prove how imaginative the press can get. Second, it's almost unfathomable that Kate would move an ocean away from William and her family – who have been her main support system.  And last, New York, seriously?  The place is another paparazzi jungle.  She may not be as popular there as in Britain, but she will also lose whatever media protection she has gained from previous harassment claims.  A few weeks of training sounds plausible, but I'm not convinced Kate would actually move to the US.
Related Posts: