**Updated with article highlights** Prince William and Kate Middleton made the cover of the current issue of Hello! Magazine.  Here are page scans of their exclusive on William & Kate's ski holiday in Courchevel, France.  Article highlights below.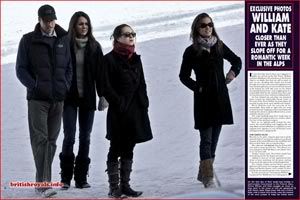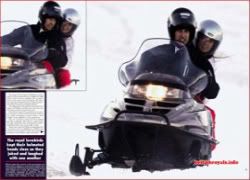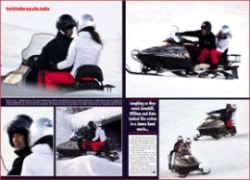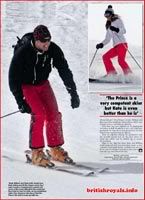 [ad#textbanner1]
There's nothing significantly new in this exclusive. They used ski instructor's Meret Visser's quote along with loved-up stories from previous articles. It was written by Judy Wade with additional reporting form Thomas Whitaker.
Article highlights:
Their group hired a luxury 5-bedroom chalet which can be rented between 11,000-17,000 euros/week. It comes complete with a resident chef, steam room, roaring log fire, and plasma TV room.
"They both clearly love their skiing and hit the slopes everyday"
"The Prince is a very competent skier, but Kate is even better than he is." He did very well to keep up with her
They rented their ski gear
A trusted member of their circle said there has been no talk of an engagement this year – which is not surprising
William is cramming an 8-month course into 6 months. He's allowed this holiday week off before starting the final stage of training
Kate is still with Party Pieces. "Kate is not hiding away, she goes out in London a lot, leading a normal life, using public transport often, but she just hasn't been spotted. While it's true she doesn't like the paparazzi, she hasn't been trying to avoid them. She is simply going about her business like a normal 28-year-old." She and William have remained low key, meeting regularly.
[ad#horizontal4link]