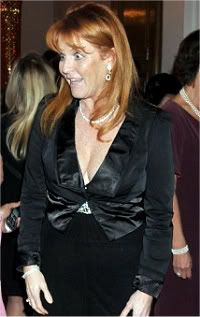 The Royal Rajasthan Gala in London sure had a big showing!  Sarah Ferguson chose to wear a black dress and with a spectacularly low neckline for the charity event.  The cut of her all-too-tiny jacket was such that last-minute adjustments were simply futile.  The cut actually left Fergie fiddling uncomfortably as she arrived for the party.  Nevertheless, Fergie braved on for a good cause.
The ball was hosted by the Maharaja of Jodhpur, Gaj Singh II, who founded the Indian Head Injury Foundation. Other guests include Sigourney Weaver and Princess Michael. All proceeds went to charity.
Sure, it was a bit of a fashion faux pas.  But who cares?  Glad to see Fergie continuing her charity work.
Article: Daily Mail
Related Posts: