While Kate Middleton waits patiently for Prince William to propose, another one of her closest friends, Emilia d'Erlanger, has become engaged. The 27 year-old will marry David Jardine-Paterson, 28, next year, reports The Telegraph.
Now let's dig deeper into the royals' inner circle of friends…
Who is Emilia?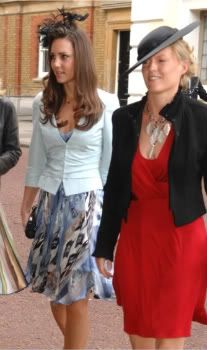 The youngest of 5 children, Emilia Mary Florence d'Erlanger has been linked to William in their late teens.  She first drew attention in 1999 when she joined Wills in a summer holiday cruise around the Greek Islands called the "love boat."  Like Kate Middleton, she studied at Marlborough College and headed to either St. Andrews or Edinburgh University to read History of Art.  So is Emilia primarily Wills' or Kate's friend?  I guess the answer is both. She's seems to have remained in their inner circle of trusted friends over the years, and was once photographed with Harry during a polo match in 2001.
During William & Kate's brief split in 2007, Emilia accompanied Kate to Ibiza for a holiday.  Here's a picture of them attending Lady Rose Windsor's wedding in July 2008 (right).
Emilia co-owns the interior design company d'Erlanger and Sloan based in London.
Her fiance David Jardine-Paterson is scion of a Scots landed family.  Is he related to Pippa (Kate's sister) Middleton's ex JJ Jardine-Paterson?  Most probably!
So I guess the real tickler is: Now that their friends are starting to settle down, will William finally pop the question?  Don't hold your breath just yet…
Links of Interest:
d'Erlanger and Sloan