It didn't feel too long, did it?  After a low-key summer, The Duke and Duchess of Cambridge stepped out to open The Royal Marsden Hospital's Oak Centre for Children and Young People in Sutton. They toured the facility, and met medical staff, patients and their parents.  Prince William is president of the children's cancer charity.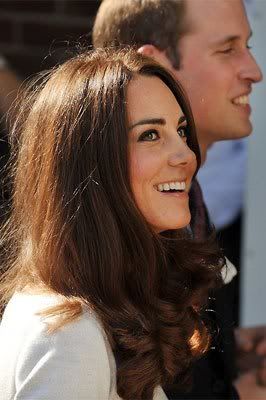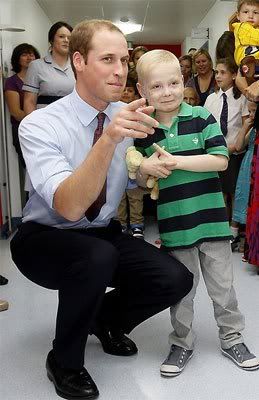 The Duke & Duchess of Cambridge open cancer centre at the Royal Marsden Hospital
29 September 2011. Photos: Getty Images
The event came after William pulled a 24-hour shift flying emergency helicopter rescue missions. The all-nighter ferried a serviceman from a warship off the Isle of Mann to Sandhurst in Surrey to see a seriously ill relative. He also helped pick up a casualty with serious head injuries in Snowdonia. Mind you, he didn't look tired at all and was all smiles during the event. Kate arrived separately from London in a beautiful oatmeal Amanda Wakeley dress (which, naturally, has already sold out).
During the visit, William was reunited with Alice Marples, 12, a cancer patient who interviewed him two years ago for the CBBC Newsround programme. She presented Kate with flowers.
The couple chatted with cancer patients and their families — William making plenty of jokes (didn't escape any football talk) and Kate asking lots of questions. She promised to look up a child's blog and post a message. William made a speech; they unveiled a plaque and did a small walkabout. As usual, they spend 30 more minutes doing the engagement than scheduled.
Videos: Telegraph (recap) | The Royal Channel (includes William's speech) |  BBC | Sky News
Pictures: Getty Images | BBC |
Articles: Daily Mail
P.S.  Many people questioned why Kate arrived wearing her engagement ring and left without it?  Answer?  Hygiene! Here's an explanation…
Kate Continues "Princess Training"…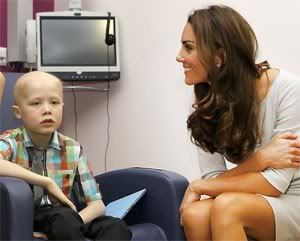 As Prince William buckles down to get flight hours needed for RAF captaincy, Kate has started spending plenty of her time training to be a royal.  The Palace said that they have issued a program that will strengthen the Duchess' knowledge on the arts, media and the government.  Personal sessions with experts are being conducted in St James's Palace and on site.  One sighting was a visit to London's National Portrait Gallery to understand how it is run.  Kate has also been researching on which charities she plans to support by meeting with organizers and visiting on site.  However, it is unlikely that any patronages will be announced until the new year.  On the evening of the Royal Marsden visit, William, Kate & Harry hosted a reception at St James's Palace for the staff and donors of The Foundation of Prince William & Prince Harry (they're still working on a name to encompass Kate).
Other Recent William & Kate News:
Zara & Mike Updates
The recent controversy of Mike Tindall caught on video hugging and kissing a blonde did not go away quietly.  Since then, Zara has flown to New Zealand.  The pair has reunited and have shown a brave face of solidarity in public.  Their spokesperson maintained that the woman in the video is an "old friend."

Other Royal News: