5 June 2012: A fitting culmination of four days of celebration.  Alas, the Diamond Jubilee ended in a grand yet utterly moving display of pomp and pageantry.
The royals, minus Prince Philip who is still in hospital for a bladder infection, gathered at St Paul's Cathedral for a Thanksgiving Service in the morning. The Queen then attended a reception at Mansion House while other senior royals including Charles and Camilla were at a similar event at the Guildhall, with members of the thanksgiving congregation present at both.  William, Kate & Harry hosted separate tables during lunch.
Then came the anticipated carriage procession across London with an approximated one million spectators lining the street.  Due to Philip's absence, the Queen rode the 1902 state landau with Prince Charles & The Duchess of Cornwall.  William, Kate and Harry took the other carriage.  The six of them  then appeared on the balcony of Buckingham Palace to see the crowds, enjoy a spectacular flypast and salute to the Queen.  I admit it was strange for the balcony looking quite bare — due to the absence of the Duke of Edinburgh and the rest of the extended family.  But it is a symbol of a slimmed-down monarchy; a sign of things to come.  As usual, the crowds were massive!  I have never seen such affection for the Queen or her family for a long time.  Unforgettable.
Later that afternoon, Her Majesty released a pre-recorded message of thanks to her subjects.  She called the Jubilee celebrations "humbling."  What a great lady!  Long may she reign…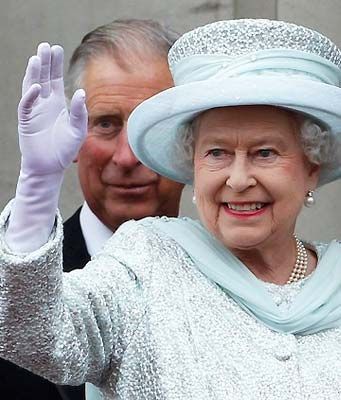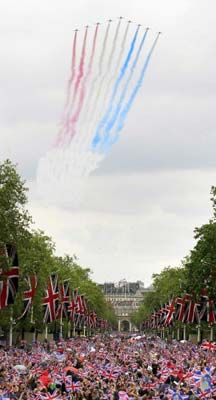 The Queen waves from the iconic balcony of Buckingham Palace.
A flypast culminated the celebrations. Pictures: Getty Images (left), Reuters

The future of the Monarchy: William, Catherine & Harry
Picture: Getty Images
[ad#textbanner1]
The Queen's Jubilee message of thanks:
Videos:
[ad#zazzleright-diamondjubilee]
Articles
Collective Articles
[ad#box1]
Fashion Articles
Pictures
Previous Days: Diamond Jubilee 2012:
>> Thames River Pageant
>> Buckingham Palace Concert
[ad#horizontal4linkfront]