It will be a very, very busy spring and summer season for the Palace! The Royal Wedding on April 29, the Queen's visit to Ireland in May 15, and the US state visit in May 24-26.  Then in June-July, it's on to Her Majesty and Prince Philip's landmark birthday celebrations, William & Kate's first overseas tour and Zara Phillip's wedding.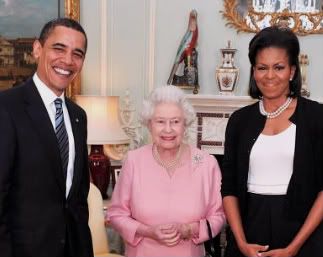 US President Barack Obama will make a state visit to the United Kingdom May 24-26, White House Press Secretary Jay Carney announced Thursday. The trip would be Obama's first European state visit, illustrating "the strength of the special relationship between our two countries, and of the United States' enduring commitment to its European and NATO allies and partners."
Obama "is obviously honored by the invitation" that was offered by Queen Elizabeth II. Mr Obama, his wife Michelle and their two daughters will spend the three-day visit as Her Majesty's guests at Buckingham Palace.
Now, does this mean the Obamas are NOT invited to Prince William & Kate Middleton's April 29 wedding?  The proximity of the state visit seems to suggest so.
Article: Daily Mail
Before the US state visit, the Queen is expected to make a 3-day visit to Ireland starting May 15, which will make her the first monarch to visit in a century. Source: Daily Mail
Chelsy Davy, Pippa & James Middleton, Princesses Beatrice & Eugenie and the entire royal gang on charity night out
Chelsy's New York stint was short-lived.  Now she's back in the UK and back within the royal fold!  This will strengthen speculation that she is, indeed, also back with Prince Harry.
The royal group enjoyed a Eyes Wide Shut Valentine Masquerade charity party in Guy Pelly's club Public in London.  Among the attendees: Chelsy Davy (who arrived with chum Olivia Perry), Princesses Beatrice & Eugenie (dropped off by mum Fergie), Kate Middleton's siblings Pippa & James, newly engaged Holly Branson, Guy Pelly, Tom van Straubenzee, Jamie Murray-Wells, Tom & Victoria Inskip, Prince William's rumoured exes Olivia Hunt, Jecca Craig & Rose Farquhar, Astrid Harbord and Jake Warren.  In short, the same royal set that we expect to see at the Abbey on April 29!
Article: Daily Mail
Pictures: Isopix | Rex Features | Popsugar
More Pictures: Zimbio: Chelsy, Beatrice, Eugenie | Pippa, James & Holly
William & Kate News:
The Royal Wedding invitations are on their way! Royal correspondents are saying a parcel was sent yesterday, and more are expected to hit the post today.  So watch your mailboxes
  Desperate for an invite?  A Mexican teenager is on a hunger strike until she gets one!  Speaking of which, WHERE'S MINE?
Other Royal News: