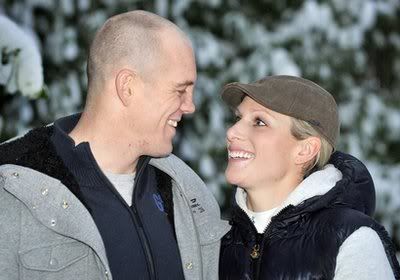 Wedding bells could be ringing sooner rather than later for Zara Phillips. The royal and her husband-to-be Mike Tindall, who live in Cheltenham, are hoping to set a date for their big day in May. The possible wedding date will come just a month after her cousin, Prince William, ties the knot to Kate Middleton. According to reports, the bride has chosen May so the celebrations will not clash with her grandfather Prince Philip's 90th birthday in June.
Zara, 29, and Gloucester Rugby ace Mike, 32, are expected to marry in a relatively small ceremony at St George's Chapel in Windsor. The couple were engaged in December when Mike proposed at the couple's home.
The Telegraph also reports that Zara and Mike are "seriously considering" a highly lucrative deal in which Hello! Magazine would publish exclusive photographs of their wedding. In 2008, it has been disclosed that Zara's brother Peter Phillips had agreed on a £500,000 deal with Hello! to cover his marriage to Autumn Kelly, to which senior members of the royal family reportedly disapproved.
"Zara and her family have a very good relationship with Hello! and were delighted by its coverage of her brother's wedding," says a friend of Zara. "Hello! told them in the past that they would be keen to cover their wedding when they got married and they will seriously consider any offer they receive. It's not true that the family were unhappy. As far as Zara knows, no one made any negative comments about it at all. They thought the pictures were lovely."
Zara's spokesman says Hello! "puts in a bid about every two months to do something with Zara and Mike", but has not yet made an offer for their wedding rights.
Articles: This is Gloucestershire | The Telegraph
The two royal couples — Zara & Mike, and William & Kate, are on the cover of this week's Hello! Magazine.
Police Release New Footage Of Prince Charles, Camilla Attack
Police have released new footage of an attack on Prince Charles' car during the tuition fees protests in London in an attempt to trace those responsible. Detectives who are investigating the violence on December 9 issued CCTV pictures from the Regent and Oxford Street areas of the city. There has been widespread criticism of the apparent lapse in security which left the pair visibly shaken and shocked but unharmed.
The video and images released show four people officers from the Operation Malone team would like to trace in connection with events. One shows a woman striking the Royal car and breaking the back window of one of the convoy vehicles. She is pictured with a man, whom police would like to trace as a potential witness. Officers are also keen to identify two men seen separately attacking the car.
At least three metal dustbins were also hurled at two other cars in the convoy which was travelling to Royal Variety Performance at the London Palladium.
Articles: Sky News | Press Association
Other News:
Related Posts: